---
Otevírací doba:
MO: 10:00 - 20:00
TU: 11:00 - 20:00
WE: 10:00 - 20:00
TH: 10:00 - 20:00
FR: 10:00 - 20:00
SA: 10:00 - 20:00
SU: 10:00 - 20:00

Contact:
pragueairport.factorystore@nike.com
326 509 942
---
The Titan among sports brands? The world famous Nike! Who wouldn't know its iconic Swoosh? Passion for this brand brings together celebrities, top models and ordinary customers, which isn't surprising. Nike is no longer just a sports brand. It attracts more and more fashion enthusiasts thanks to its streetwear collections, which are created by the most famous designers of streetstyle fashion.
And what about you? Do you own a fashion item from this phenomenal brand? If the answer is no, come and get one in our Nike Factory Store. What about the popular Air Max shoes with an air bubble, loved by men and women of all ages?
Alternatively, treat yourself to a sporty outfit. Sneakers of all kinds await you in the Nike store but not only that. Get sweatshirts, tops, leggings, trousers, bags and much more. Don't be afraid to jazz up your elegant clothes with sports elements. Combine sneakers with a skirt and you'll be incredibly chic. Just like the supermodels Bella Hadid or Karlie Kloss.
---
Brands sold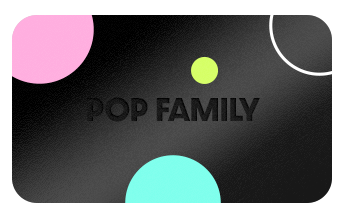 POP FAMILY
Your satisfaction is important to us. Become part of the exclusive POP Family and enjoy loads of benefits for you and your nearest and dearest.
Become a member