An exhibitionS with more than 200 iconic carS
Is there anywhere that those who love vintage cars and current models alike can come into their own? A place where, when they look at all the beautiful vehicles of different makes, models, and colours, the pulse starts racing and they are captured by a feeling of nostalgia and the urge to sit in one, heading out into the unknown?
There is indeed - you will experience all of these emotions at POP Airport, where you will find an absolutely unique exhibition to literally take your breath away – Engine Classic Cars Gallery, with more than 200 cars, all iconic makes, including the unique collection of Porsches. On top you can rent covered and secured VIP parking spaces for your own beloved cars that are fitted with chargers for traditional car batteries.
free
entry
200 iconic
cars
Star porSche
collection
to See
and to buy
5 min
from
the Airport
private
parking
engine claSSic
carS gallery
At Classic Cars Gallery, expect to be astonished by more than 200 road cars, sports cars, and racing cars, all iconic makes, including a unique Lancia Stratos from 1974 and the incredibly rare Aston Martin DBS Superleggera Concorde Edition. The sizeable collection also takes in luxury cars from Porsche, Lamborghini, Audi, Ferrari, and BMW, as well as rare models from Lancia, Opel, Talbot, Alfa Romeo, Fiat and Renault. You will find the entrance right next to Starbucks.
porSche collection
The unique Porsche collection is a part of exposition. And which gems are hidden there? Five generations of Porsche 911 from the 1970s to the beginning of the new millennium. The oldest is the so-called G series model with characteristic side-ribbed bumpers. One of the most valuable is the Speedster version on display. One of the most interesting is a trio of purple-painted specimens from a limited series celebrating the 30th anniversary of the introduction of the 901 model.
renovation ShopS
and Servicing
One part of the background to Engine Classic Cars Gallery is its servicing and renovation shops, where work is done to historic and modern cars and motorbikes before the visitors' very eyes. Come and see the skilled hands of the mechanics that return the beauty and gloss to vintage cars. Are you a motoring enthusiast? We provide a full range of servicing for all types of cars. We can even rent you covered VIP parking spaces.
unique corporate eventS
Looking for some original entertainment for your company? We will arrange a guided tour of our Engine Classic Cars Gallery car exhibition. Simply looking at iconic makes of cars, such as Porsche, Aston Martin, Lamborghini, and Ferrari, will take everyone's breath away. After taking this unique tour, we will book a table for you in one of our outstanding restaurants, coffee you can enjoy on our viewing terrace, from which you can almost touch planes.
Discover
private parking
Dou you have an original classic car at home or are you just looking for a safe and convenient parking space for your precious car? Rent covered and secured VIP parking spaces in our private garage. In cooperation with Engine we also arrange manual washing, common car maintenance operations as well as winter maintenance including battery charging and starting.
Discover
free entry
Enjoy unique exhibition for free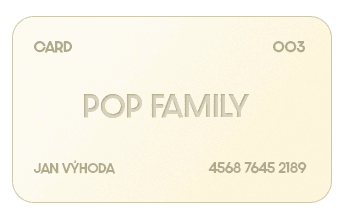 POP FAMILY
Your satisfaction is important to us. Become part of the exclusive POP Family and enjoy loads of benefits for you and your nearest and dearest.
Become a member