Your MoSt Frequent queStionS
Find your answers here
Bus line 312 and 356 will bring you to us from the Bořislavka stop of Prague subway line A. Bus line 322 will bring you to us from the Nádraží Veleslavín stop of Prague subway line A. For more information, visit: https://pop.cz/en/how-to-find-us.
Yes! Our customers can make use of a special POP shuttle bus free of charge. It rides out regularly every day from a bus stop located by Prague subway line A, station Nádraží Veleslavín. For a detailed description and a timetable, see HERE.
Yes, POP Airport customers can park with us for free, during the center's opening hours.

Yes, upon prior agreement. Customers can be dropped off at the public-transport stop in front of POP Airport, and the bus can then be parked in the bus yard next to the outlet. If you're interested in this, contact us at info@pop-group.cz.

Yes. 2,400 parking spaces are available in a generously sized parking lot, and most of them are sheltered parking spaces.

Yes, the parking spaces are monitored for increased security.

Unfortunately, we do not provide parking during the holiday for private purposes or short-term rental, the parking lot is intended exclusively for customers and POP staff. However, Engine Classic Cars Gallery, based in POP, offers the possibility of renting parking spaces in their lockable zone. More information can be found here.
Unfortunately, claims and exchanges of goods are only possible at the shop where the goods were purchased.

Parcels can be picked up from the Alzabox during POP Airport's opening hours, I. e. from 10:00 a.m. to 8:00 p.m.

From the airport Vaclav Havel Prague you can use a taxi service, Uber, Bolt or public transport bus lines. You can find them right in front of the arrival hall of both terminals. Bus lines 319 and 322 run from Terminal 1. Bus lines 119 and 100 run from Terminal 2 to the bus stop at the Hangar, where you can change to bus line 356 or 322.

For more information, visit: https://pop.cz/en/how-to-find-us.
Yes; however, due to the current situation with Covid-19 and the decrease in tourism, the currency exchange is currently out of operation, as is the tax-free service.

At most of the shops, you can. However, each shop sets its own policy on accepting Euros, as well as its own exchange rate.

Yes, at our Info Center, POP Airport customers can store their luggage and garments for free.

Yes, this option is available from our restaurants and cafés.

Yes, but only under the following conditions. The dog must be on a leash, and any dog from a large breed must be muzzled. You must also make sure that your dog's presence does not create a nuisance for the center's other visitors. In all cases, owners bear responsibility for their dogs' behaviour and any problems and damages they cause.

The Mayaland shop is the gateway into Mayaland. It is in the center of POP Airport, nearby Entry C. A connecting tunnel leads on from the Mayaland shop to the Mayaland amusement park and its rides.

Yes. We have the exclusive POP Family club, with benefits for you and your loved ones. Become a part of it and get a 10% discount on your first purchase or a 100 CZK discount on entry to Dinosauria Museum Prague or Mayaland. More information HERE.

Yes. Elevators enabling wheelchair access to POP Airport are located at Entry B and Entry C. Any person with physical disabilities may borrow a wheelchair from us at our Info Center and visit our shops, cafés, and restaurants without limitation after paying a refundable deposit.

Yes. We offer gift cards with values of 200 and 500 CZK, which can be used at selected shops. Purchase them at our Info Center. The Info Center accepts cash and card payment.

Yes, at POP Airport, we offer a premium service that will please every mother and father with babies. You'll find a comfortable separate room by the toilets with a changing table, a microwave for heating children's meals, and also comfortable seating where you can feed your baby in peace and take care of everything you need.

Yes, a practical pushchair is available to you at our Info Center.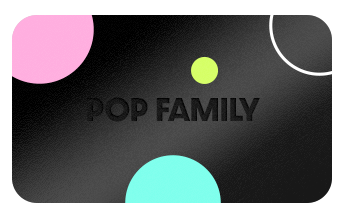 POP FAMILY
Your satisfaction is important to us. Become part of the exclusive POP Family and enjoy loads of benefits for you and your nearest and dearest.
Become a member