ServiceS for your comfort
You will find a wide selection of services at our center
ev charging Station
At POP Airport, you can use 25 FUTUR/E/ GO ČEZ charging stations for 50 electric cars: indoor car park 20× 22 kW, outdoor car park 3× 77 kW and 2× 44 kW.

alzabox
You can find AlzaBox in our covered parking lot at the blue entrance C. Parcels can be picked up from the Alzabox during POP Airport's opening hours, i.e. from 10:00 a.m. to 8:00 p.m.

luggage room
In our Infocentre, POP Airport customers can leave their coats and luggage completely free of charge.

arrivalS and departureS information
In the Information centre, you can find monitors showing the current flight times. You can also monitor all detailed information about a given flight on a large screen at our observation terrace.

atm
You can use an ATM situated in POP Airport Information centre. At the main entrance "A", an ATM of Česká spořitelna is available to you. At the entrance "B" an ETM Euronet.

family room
By the toilets at POP Airport, placed on the right side from the Majaland Shop, next to an Outly store and Coffee Fellows, you can use a separate room with a changing table and microwave.

buggy hire
There is a practical golf buggy available at POP Airport Information centre.

charging your phone
At POP Airport Information centre you can borrow a power bank (subject to a refundable deposit) and recharged your phone outside the electricity network.

wheelchair rentalS
Visitors with special needs can rent wheelchairs at POP Airport Information Centre (subject to a refundable deposit).
parking
Parking is easy at POP Airport. You have access to 2100 indoor parking spots.

taxi
Do you need to order a taxi? Stop by at our information centre and we will arrange everything for you. Just tell us the time and place.

gift voucherS
We offer gift cards with values of 200 and 500 CZK, 1.000 CK which can be used at selected shops. Vouchers are valid until 31. 12. 2023. Purchase them at our Info Center. The Info Center accepts cash and card payment.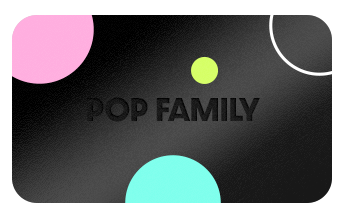 POP FAMILY
Your satisfaction is important to us. Become part of the exclusive POP Family and enjoy loads of benefits for you and your nearest and dearest.
Become a member