Discover the
mysterious world
Dinosauria Museum Prague is the world-class museum where dinosaurs come to life. Over an area of 4,000 m2 you can discover original dinosaur skeletons up to 154 million years old, realistic life-size models and a unique collection of minerals containing an incredible 6,000 exhibits. You'll also immerse yourselves in the world of dinosaurs with Dinosaurs VR, a cutting-edge virtual reality game.
You'll travel 80 million years back in time to the Mesozoic Era and come face to face with a Tyrannosaurus Rex. With state-of-the art 5D realistic sensory effects technology you'll feel like one of the heroes in an adventure film like A Journey to the Beginning of Time or Jurassic Park. Dinosauria also has educational programmes for schools.
In addition to Dinosauria, at POP Airport you can also have a great time at Mayaland Prague. In the largest covered amusement park in the Czech Republic over an area of 9,000 m2 you and your children will find many amazing attractions, including a 220-metre roller coaster with an elevation of nine metres. Mayaland also has Maya's Restaurant, a theatre and the Mayaland Shop. Car enthusiasts will be impressed by the unique Engine Classic Cars Gallery exhibition with more than 200 cars and motorcycles from iconic makes. As well as entertainment at POP Airport, you can also have a great time shopping. The POP Airport outlet has more than 80 shops with hundreds of brands where you can shop at discounts of 30 to 80 % every day. Shop it up, live it up!
ORIGINAL
DINOSAUR
SKELETONS
LIFESIZE
DINOSAUR
MODELS
Virtual
Reality
Experience
TREASURES OF
THE DEPTHS OF
THE GEOWORLD
5 min
from
the Airport
Free
Parking
Tickets
Buy anything at the POP Airport outlet, stop by with the receipt at POP Airport Info Center and get CZK 100 discount on admission.
I want discount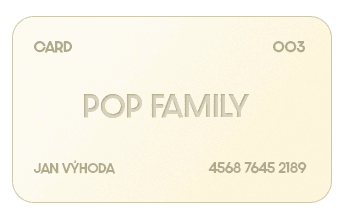 POP FAMILY
Your satisfaction is important to us. Become part of the exclusive POP Family and enjoy loads of benefits for you and your nearest and dearest.
Become a member