---
Otevírací doba:
MON-SUN: 10:00-20:00
---
Get ready for the latest in the market! The newly established NAX brand is synonymous with universal fashion Comfort, warmth, style and beauty.
This is also how the new Czech brand NAX could be defined. It is she who will offer beautiful pieces at pleasant prices. There is a large selection of colors and different patterns in the collections. The material, which is pleasant to the touch, you will definitely like it and will not want to take it off.
Different colors and patterns for every occasion Whether it's school, work, a party or hanging out with friends, NAX clothing is suitable for every occasion. At first glance, jackets with a shiny touch will catch the eye in the city for a lady who is not afraid to be the center of attention. In the first collections you can also find warm coats in beige color and cozy sweaters. Stylish pieces for little girls and boys If you have a little girl or boy at home, NAX also thinks about children and teenagers. Already among this selection you will find long, beautiful coats, where children will appreciate comfort and warmth in addition to style. ...T-shirt, sweater, shoes, coat and you can go to school. The greatest credit for the designs goes to fashion designer Veronika Paulenová, and so far she has received only compliments for her work. It was at NAX that she was able to combine the sporty-elegant style, which is a big hit, and modify it to be exceptional.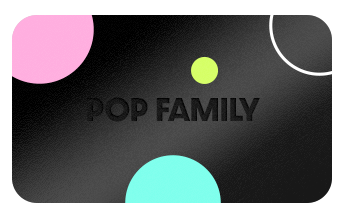 POP FAMILY
Your satisfaction is important to us. Become part of the exclusive POP Family and enjoy loads of benefits for you and your nearest and dearest.
Become a member