---
Otevírací doba:
MON-SUN: 10:00-20:00
---
The world-famous sportswear brand Kappa was born in Turin, Italy in 1967. When it comes to design, it is particularly famous for its side stripes. These first appeared on the jerseys of American athletes during the 1984 Summer Olympics. Today, the side stripes are the cornerstone of a collection that has become an absolute and timeless hit in sports fashion.
The Kappa store also carries the '47 Brand. The brand was founded in 1947 by brothers Arthur and Henry D'Angel. At the time, their main goal was to start a hat company. Today, '47 Brand is a reminder of the promise the brothers made more than 60 years ago with every product: To give fans hats with uncompromisingly intricate details and perfect craftsmanship. The brand has partnered with major leagues in the MLB, NFL, NHL and NBA and has worked with more than 650 colleges in the U.S. In addition to caps, the company now also produces other sports equipment with the logos of the teams in these leagues.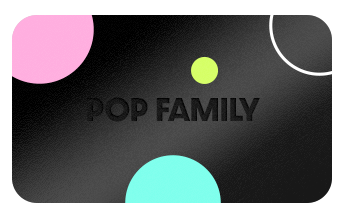 POP FAMILY
Your satisfaction is important to us. Become part of the exclusive POP Family and enjoy loads of benefits for you and your nearest and dearest.
Become a member