---
Otevírací doba:
MON-SUN: 10:00-20:00
Contact:
CZ_adidas_MBFO_Prague_Airport@adidas.com
251 510 401
---
Just say "three stripes" and everyone knows what brand you mean. The legendary Adidas! Its logo in the form of three black stripes is known all over the world. If you too are one of the lovers of this sport "star", you shouldn't miss the opportunity to pick up a new original item in the Adidas Prague store. What about the iconic sneakers? You can never have enough of them. Nevertheless, you can get anything in the store, ranging from stylish sportswear to accessories.
Adidas, however, isn't only about top sports fashion. Fans also love its retro and original street collections. A collection designed by the famous designer Stella McCartney is one of the most fashionable specialties. American musician Pharrell Williams is another star participating in the product design. Most recently, Beyoncé has also announced a partnership with the brand. She said it was "the best collaboration in her life".
Sports and street fashion fans simply mustn't miss this store.
---
Brands sold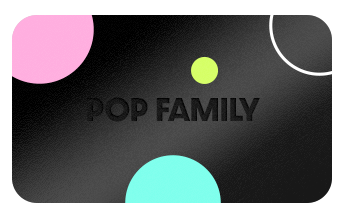 POP FAMILY
Your satisfaction is important to us. Become part of the exclusive POP Family and enjoy loads of benefits for you and your nearest and dearest.
Become a member